From auto accidents to defective products, there are many types of personal injury cases. The most common are auto accidents, which make up just over half of the personal injury cases in the U.S., according to the Bureau of Justice Statistics.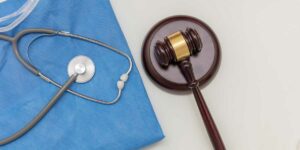 That's not surprising when you consider the high number of auto accidents and the injuries and fatalities they cause every year. In Florida last year, there were more than 400,000 crashes, resulting in more than 252,000 injuries and nearly 3,800 fatalities, according to the Florida Highway Safety and Motor Vehicles.
When you are injured in an accident, the effects on you and your loved ones could be long lasting and devastating. Your injuries could impact your quality of life and the financial burden could be overwhelming.
However, auto accidents aren't the only types of personal injury cases. Here are some other types of cases.
Boating Accidents: According to Florida State FWC, there were 836 accidents involving watercraft in 2020. These include collisions of boats, jet ski or other vessels or watercraft capsizing.
Motorcycle Accidents: Studies show that Florida ranks at the top of the list for motorcycle fatalities. Motorcycle crashes have a higher chance of serious injury than car crashes.
Medical Device Failure: Medical device failure may be caused by manufacturing issues or when the device is used or implanted.
Product Liability: Product liability holds all producers of products liable for selling products that cause injuries to their customers.
Premises Liability: Often, landowners are responsible for the welfare of anyone who is injured on their premises. Injuries may result from something being out of place, standing water, irregular pavement, wet flooring, poor security, unmarked or otherwise obscured holes, or other property defects.
Workplace Injuries: If you are injured on the job or at your place of work, you may be eligible for compensation for injuries, with or without workers' compensation.
Wrongful Death: Wrongful death is a claim in common law jurisdictions against a person who can be held liable for a death. The claim is brought in a civil action, often by relatives.
If you have a personal injury case, you may be entitled to compensation for medical bills, property damage, lost wages, and pain and suffering. You will want to choose an experienced attorney who can handle your specific case.
At Kagan Law Firm in Fort Myers, we can assist with a wide range of personal injury cases. You will meet directly with an experienced attorney who will represent your best interest and fight for what you deserve. Call (239) 466-1161 to schedule a free consultation.