Auto accidents can be traumatizing events that can impact you physically, mentally, and financially. It can be a confusing time but there are several steps you should take if you are involved in an auto accident. Taking the time to learn what to do will help you be more prepared.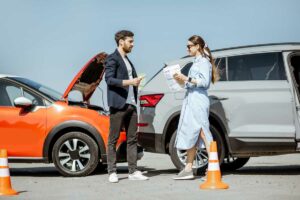 The first thing you should do is to assess injuries call 911 for help. If you are able, take photographs of the vehicles, damage, and intersection. Once law enforcement and paramedics arrive, make sure you tell them everything that is bothering you physically. Immediately after a crash your adrenaline is running and a simple "I'm fine" comment can often cause issues down the road. If paramedics or law enforcement recommend you go to the ER – then you should probably go. Also, make sure you direct law enforcement to any witnesses that may have stopped.
If you do not go to the ER, you should absolutely get a medical exam as soon after the accident as possible. It often takes a day or two for you to really start feeling the effects of your injuries. Also, there may be internal injuries, such as brain trauma, that may not present symptoms right away. Additionally, putting off the exam or treatment can harm any personal injury claim you may need to pursue later. Florida law requires that you obtain medical treatment by an authorized professional within 14 days after a crash to receive the full PIP benefits in which you are entitled. Now is not the time to act tough.
Consult a lawyer after auto accidents
An attorney is going to know all your options. Every state is different. The state of Florida is considered a "no-fault state," which is defined that when two or more people are involved in an automobile accident, the ability to sue the at-fault driver is restricted. However, if you are injured during an auto accident and meet the criteria of the serious injury threshold, you may be entitled to the recovery of non-economic damages.
Working with a personal injury lawyer can benefit you throughout the injury claim process. Your lawyer will protect your rights during any interviews conducted by the insurance adjuster. They will also be skilled in negotiating with the insurance company or litigating your case in court. This is important because there are specific laws in Florida that could prevent you from ever getting compensation for your injury claim if not handled timely.
Most people who put off talking to a lawyer do so because they don't want to add to their financial burden. It's important to know that the initial consultation with us is always free and we only get paid if we win your case! This makes it easier for you to hire the legal help you need.
If you have been involved in an auto accident in Fort Myers, FL, the Kagan Law Firm is here to help you. You will talk directly to an attorney who will guide you through the process with a personal touch. Call (239) 466-1161 to schedule a free consultation.