Good attorney-client relationships during any legal situation will not only make the experience easier but can also lead to a better resolution to your case. If you feel comfortable with your attorney, you'll speak more freely when providing case details and you won't be afraid to ask questions. Your attorney will be better informed of all the facts, and you'll be properly informed to make the best decisions as your case moves forward.
While it's true that your attorney needs to be highly skilled and experienced, you shouldn't overlook the value of good attorney-client relationships. In a good relationship, open communication thrives. Both parties can freely express any thoughts or opinions.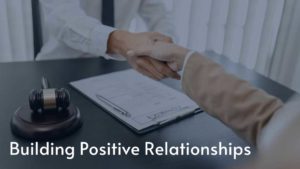 In good attorney-client relationships, the attorneys show respect, consideration, and compassion to establish a friendly and safe atmosphere. The client is comfortable sharing any information pertaining to the case, including the most sensitive and essential information. The more information the attorney gets, the more solid the case is going to be.
Through candid conversations, attorneys cultivate trust and confidence. Clients know their attorney is advising them on both the positive and negative aspects of their case, as well as the various results that could occur. By being realistic and promising only what they can deliver, clients develop an inner peace from knowing their attorney has their best interest at heart.
Trust also makes the clients more willing to cooperate and follow their attorney's counsel, even when things don't go according to plan. The mutual respect, confidentiality, and trust that's established works in the client's favor by positively affecting the attorney's ability to represent them, be it in settlement negotiations or a court room.
At Kagan Law Firm, we enjoy working with our clients and we work hard to build an open and respectful relationship. Your case isn't just another case or a case number to us. That's why we make sure that every client works directly with one of our attorneys and not just our staff. It provides a better opportunity to build a positive relationship.
Looking for a personal injury attorney who prioritizes good communication and building solid relationships with their clients? Contact us today at (239) 466-1161 to schedule a free consultation.