In the last week, you've probably seen or heard attorney advertising for more than a dozen firms. Fort Myers personal injury firms are exclaiming, "you don't pay unless we win," billions recovered for clients or something similar.
Some law firms promote their large size. They have hundreds of attorneys on staff and have offices across Florida, or across the country. The total amount they've recovered during their many years in practice and thousands of cases are overwhelming. Doesn't it sound great to have won billions of dollars for clients?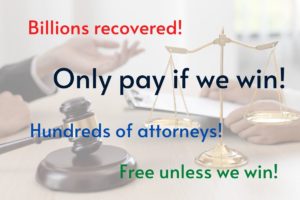 There's nothing wrong with promotion. We advertise our services, too. But if you are choosing a law firm to handle your personal injury case in Southwest Florida, look beyond the attorney advertising and find the right attorney for you.
So, how do you find the right attorney?
Don't get distracted by the shiny objects or huge numbers. Decide what is important to you, what your goals are and do some homework. Here are a few things to consider:
Size: Bigger does not equate to better. There are cases that require dozens of attorneys but is that what you need? A smaller firm provides a more personal approach, which in turn, means a better understanding of your case.
Accessibility: Can you call your attorney on their cell phone? Do they return your text messages? Will they meet with you in-person to discuss your case? If you are lucky enough to get them on the phone, do they rush you off or act like you're a bother?
Type of case: Does the law firm have experience with cases similar to yours?
Reputation: Who do your friends and family recommend? Is the law firm from out of town that simply bought a billboard and hung up a shingle? Read online reviews – the good and the bad.
Recovery amounts: We all like hearing "billions" of dollars but how does that relate to your case? Those numbers are for thousands of cases over many years. What you care about is the recovery for your specific case. Also, how many cases do they actually take? Do they only take the easy cases or the big cases?
Location: Are the attorneys in the local area full-time? Are they locals? Do they know the area, weather, roads, doctors? If sense of community is important to you, you may want to know if the attorneys are involved in the community.
Compatibility: You want an attorney who you like and can get along with. But, you'll never know that if you don't get to meet them in person first. Your attorney should respect you, fully answer your questions and explain things in terms you understand. You don't have to be best friends, but you should like, understand, and trust each other.
If you do some research and choose the best attorney for your case, you'll likely be happy with the results. It's fine to be impressed by flashy commercials, catchy slogans, and enormous numbers in attorney advertising but don't choose your attorney by those factors alone.
At Kagan Law Firm, we promote our great results for clients, our experience, and the fact you don't pay unless we win, but those aren't the only reasons to choose our firm. We truly care about our clients and treat them with respect and compassion. We put the "personal" in personal injury attorneys. We see our clients as people, not just a file number.