The best personal injury attorneys are ones who show respect and compassion for their clients. They provide a personal touch and understand that you are a human being, not a file number. You have family, a life, a job, and hobbies you may never be able to enjoy again.
Some of our attorneys have medical backgrounds, others have been seriously injured in car crashes themselves. We get it because we've been there. At Kagan Law Firm in Fort Myers, FL, we like to say we put the "personal" in "personal injury."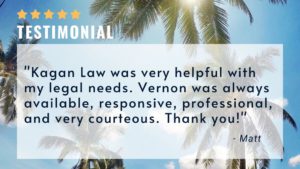 Naturally, excellent customer service is important to us. We appreciate hearing that our clients are not only happy with the results we achieved, but equally as happy with the way they were treated throughout the process. We welcome their feedback and listen intently to what they have to say. We are proud to have a 5-Star rating with more than 60 reviews.
When you are choosing the best personal injury attorneys to represent you, consider what previous clients have to say. Read reviews, ask for referrals, and talk directly with the attorney before making a decision. You want an attorney who is not only highly skilled, but easy to get ahold of, responsive to your needs, and who genuinely wants what's best for you, and not them.
Here are a few things our clients have said about us.
The Kagan Law Firm is EXCELLENT! Everyone is professional, kind and attentive to your needs. The staff really make you feel like family! Communication is outstanding; phones calls, texts and emails are responded to very quickly. My experience was flawless from start to finish. I Highly recommend The Kagan Law Firm if you are in need. — Travis D.

I would have never thought working with an attorney could be a good experience but Vernon Guirguis has shifted that opinion for me. Having a strong sense of morality and justice is an essential characteristic of anyone I would choose to assist me in any legal situation and Vernon is just that. He truly understands the position his clients are in and is passionate about representing them in a way that will leave them with the most favorable outcome possible. When they say they put the personal back in personal injury- they are absolutely serious. — Jenna J.

After a car accident injury the leaving me in pain and a little scared the last thing I wanted to do was to seek legal advice. Walking in to see Chris Kagan who came in to see me on my lunch break with little notice made me instantly comfortable and at ease truly making me feel like family. He never rushed me out of his office, answered every text/call/email in a over year long process. His true compassion, honesty and humility is something rare to find it seems these days more than ever. Chris wants the best for his clients even if it does not benefit him in the end. He went SO above and beyond for me I truly consider him a friend. The Staff especially Judy who is absolutely fantastic also went above and beyond for me as well. Her efficiency and communication was top notch. I highly recommend KAGAN LAW FIRM for any legal advice or questions for any future needs. — Rachel K.

Kagan Law firm helped our family through some very traumatic times. Very sympathetic, understanding, professional. Quick to respond whenever we called. Also helped to resolve other issues as well. Thank you Kagan Law Firm for all you have done, may God bless you! — Cathy C.
If you need an attorney in Fort Myers, FL, you can see our clients think we are the best personal injury attorneys. They hold us in high regard. And we feel the same way about them!