You may wonder what to expect during a personal injury case. Many of us have seen these cases on TV shows and in movies, but personal injury cases can be complicated and take time. Attorneys will do many things to help build and argue your case, but every case and attorney is unique, so your experience may differ from what you read here. In general, this should help you know what to expect.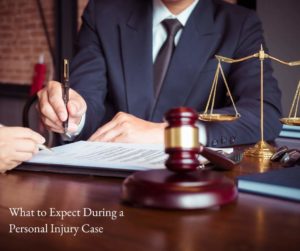 One of the first things that will be done is to gather evidence to support your case. That evidence can include photos from the incident, witness statements, police reports, insurance information, and anything relevant to your situation. Your attorneys will work alongside you to understand what happened and how.
Documentation is an essential part of any legal issue. In the case of a personal injury, that means documenting where you were hurt and the extent of your injuries, physical or mental. Your attorneys will want access to medical records and expenses for any treatment you have received for your injury. They can also advise you on working with your doctor on a medical plan for continuing injury treatment as needed. Having detailed records helps when it comes to seeking compensation.
Once enough evidence is collected, expect your attorneys to seek a settlement agreement between you and the other parties to resolve your case without going to trial. In most personal injury cases, you can expect your settlement to be monetary compensation. Before settlement discussions begin, your attorneys will help you determine a reasonable and attainable settlement estimate based on the circumstances of your case. Settlement discussions can take time and may require several discussion rounds between your attorneys, yourself, and the other parties involved.
If a settlement can't be reached, a trial is the next thing you can expect during a personal injury case. Your attorneys will advise whether seeking a trial makes sense for you and what that will mean for your case. If you decide to go to trial, your attorneys will file a lawsuit with the court. A trial includes a discovery phase where both sides share information relevant to their argument. You can also expect settlement discussions to continue until the trial begins.
The attorneys at Kagan Law are here to help you with your personal injury case. We specialize in these cases and will help you understand your rights and legal options from start to finish with a personal touch. Give us a call at (239) 466-1161 for a free consultation.