Motorcycle accidents are more likely to lead to serious injury or death than auto accidents for some obvious reasons. Motorcyclists have less protection than someone sitting in a vehicle that provides a barrier. Motorcycles can also be harder to see on the roadways.
In fact, motorcyclists are 29 times more likely than passenger car occupants to die in a crash per vehicle miles traveled, according to 2019 statistics from the National Highway Traffic Safety Administration.  In 2019, motorcyclist deaths reached 5,337, accounting for 14 percent of total highway crash deaths.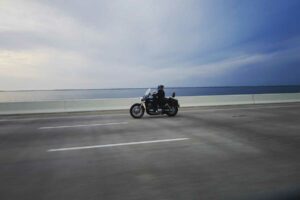 Here in Lee County, FL, there are more than 24,000 registered motorcycles and more than 587,000 cars and trucks registered, according to Florida Highway Safety and Motor Vehicles.
If you ride a motorcycle, it's important to know what to do if you are involved in a crash. Hopefully, there are no injuries or only minor injuries. In that case, first take care of yourself and get checked out at the hospital. Make sure law enforcement is informed and you have the other driver's name and insurance information. You should also get the names and contact information of any witnesses.
Take note of your surroundings for anything that contributed to the accident. That could include environmental and weather factors, roadway conditions, and any other factors which you believe may have contributed to the accident. Take photos of the scene and property if you can.
Write down anything you can remember and call an attorney as soon as possible so they can guide you through the process of obtaining any compensation you may be entitled to.
You'll want to find an attorney experienced in motorcycle accidents. They can talk to you about it while it's fresh in your mind and they can gather additional information. An attorney will have a better understanding of the damages that will apply to your case as they present your claim to the insurance company and will protect you during interviews with the insurance adjuster.
Don't worry about being unable to afford a personal injury lawyer. We charge you nothing up front, the consultations are always free, and we only get paid if we win your case.
If you have been involved in a motorcycle accident in Fort Myers, FL, the Kagan Law Firm is ready to help. You will speak directly with an attorney who will personally guide you through the process. Call (239) 466-1161 to schedule a free consultation.